˄
˅
Add computers using RD Sensor
The easiest way to find an unmanaged computer in your network structure is to use RD Sensor. RD Sensor monitors the network in which it is deployed and when a new device without an Agent connects to the network it reports this information to the ESET PROTECT Cloud. The RD Sensor component cannot be deployed with ESET PROTECT Live Installer. To deploy RD Sensor into your network, follow the RD Sensor Installation steps.
In Reports, go to section Computers and click the Rogue computers report.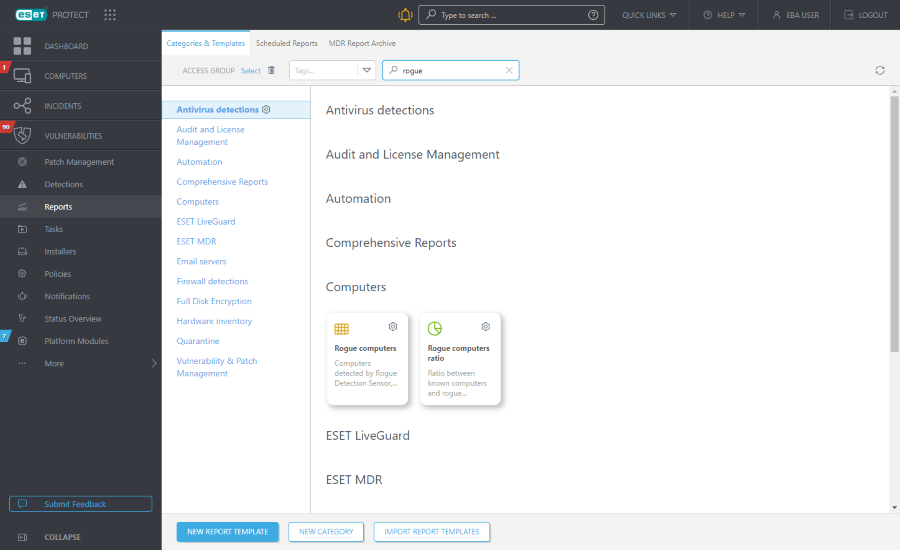 The Rogue computers report lists computers found by the RD Sensor. You can adjust the information reported by RD Sensor with the RD Sensor policy.
To add computers found by RD Sensor to ESET PROTECT Cloud, download the report in .csv format and use this list in Deployment Tool in Import list of computers option.
The results of the RD Sensor scan are written to a log file called detectedMachines.log. It contains a list of discovered computers on your network. You can find the detectedMachines.log file here:
•Windows
C:\ProgramData\ESET\Rogue Detection Sensor\Logs\detectedMachines.log
•Linux
/var/log/eset/RogueDetectionSensor/detectedMachines.log